COAS Faculty Members Awarded $250K Grant from Knight Foundation to Support Research on Internet Governance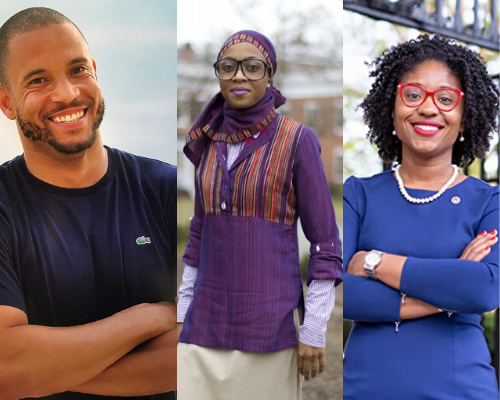 Join us in congratulating professors Dr. Ravi Perry, Dr. Bahiyyah Muhammad, and Dr. Keneshia Grant for working to secure a $250K grant from The John S. and James L. Knight Foundation. Dr. Ravi Perry, Department of Political Science Chair, will serve as Lead Investigator while accompanied by Dr. Bahiyyah Muhammad, Department of Sociology and Criminology Professor, and Dr. Keneshia Grant, Department of Political Science Professor, as co-investigators, during their new research initative on the impact of digital manipulation on Black communities.
On behalf of Howard University these faculty members submitted a detailed proposal to Knight Foundation entitled "Black and Urban Digital Protections and Democratic Knowledges in Washington, D.C." The propsal's opening statement highlights the digital tactics used by Russian operatives during the 2016 election to discourage Black people from casting their ballot in the presidential primaries. They described how this attack on American democracy has changed the norms of governance of internet and digital platforms and proposed a response to these attacks that is "based in grounded research and includes community engagement."  The objectives of the research initiative are:
knowledge production and facilitation of public discourse about misinformation in Black digital environments and
engagement with Black communities to combat misinformation.
"We expect the phase of the project with Knight Foundation to help Blacks in DC identify misinformation. Thereafter, we seek to develop the tools needed to help Black American citizens to identify which of their social media "friends" or "followers" are internet bots or human beings." said Dr. Perry. Howard University was one of only two schools to received a grant in the amount of $250K. The faculty members will partner with The Center for Urban Progress, The Dr. Gary Lynn Harris Research and Media Center, The Ronald W. Walters Center for Leadership and Public Policy, and The College of Arts and Sciences at Howard University.
About the John S. and James L. Knight Foundation
Knight Foundation is a national foundation with strong local roots. We invest in journalism, in the arts, and in the success of cities where brothers John S. and James L. Knight once published newspapers. Our goal is to foster informed and engaged communities, which we believe are essential for a healthy democracy. For more, visit kf.org.
Categories
Current Affairs, Faculty & Staff, Faculty Research, Funding, Grants and Social Science