Cobb Lab Researchers Identify Trace Metals Within the New York African Burial Ground Population
May 28, 2020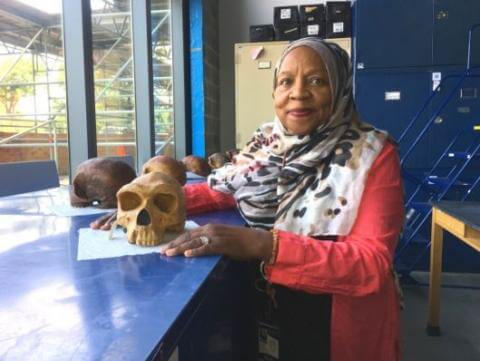 Members of the Cobb Research Laboratory and the Department of Biology recently used data analysis to "reconstruct the lives of early [Africans and African] Americans in what became [present-day] New York City". By analyzing grave soil samples from the New York African Burial Grounds (NYABG) using portable X-ray fluorescence (pXRF) technology, they were able to assess the presence of trace metals in African remains such as As, Ca, Cu, Zn, and Sr. Through their study they were able to find evidence of "potential influences from 18th Century pottery factories, the rising sea level of New York City, and the vegetative diets of the NYABG population" in the remains of those buried there during the 17th and 18th century. This successful study allowed the researchers to demonsrate that the technology used to analyze the grave soil, pXRF technology, is valuable while reconstructing past human activities when only soil is available. "Portable X-ray fluorescence technology provides a mechanism for discovering details of the historical presence of populations that are currently inadequately documented. Researchers can now make connections between past populations and contemporary ones." The reserachers intend to follow this pXRF examination of grave soil remains up with most conventional chemical analyses such as ICP-MS and ICP-OMES.
The contributing researchers, from the Department of Biology and the Cobb Research Lab, are as follows:
Fatimah L. C. Jackson – Director of W. Montague Cobb Research Laboratory; Professor, Department of Biology
Carter K. Clinton – PhD Candidate and Assistant Curator, W. Montague Cobb Research Laboratory
Latifa Jackson – Adjunct Assistant Professor, Department of Biology
Candice M. Duncan – W. Montague Cobb Research Laboratory, College of Arts and Sciences
Their research and findings were featured in a complete article entitled "Identification of trace metals and potential anthropogenic influences on the historic New York African Burial Ground population: A pXRF technology approach" on Nature.com. To read the entire article click here. You can also learn more about the W. Montague Cobb Research Laboratory by visiting their website.
By Aisiriuwa C. Archield | January 6, 2020
Categories
Faculty Research, Graduate Studies, Natural Science and Research