HBCU Quantum at Howard University
About Us 
The IBM-HBCU Quantum Center is a multi-year investment designed to prepare and develop talent at HBCUs from all STEM disciplines for the quantum future. It will emphasize the power of community and focus on developing students through support and funding for research opportunities, curriculum development, workforce advocacy, and special projects. The main goals are to:
Increase the number of Black students educated in Quantum Information Science and Engineering (QISE)

Strengthen research efforts of faculty at HBCUs in QISE

Provide opportunities for scholarship, fellowships, and internships for HBCU undergraduate and graduate students

Empower HBCUs to lead in the newly emerging field of quantum and impact the greater Black community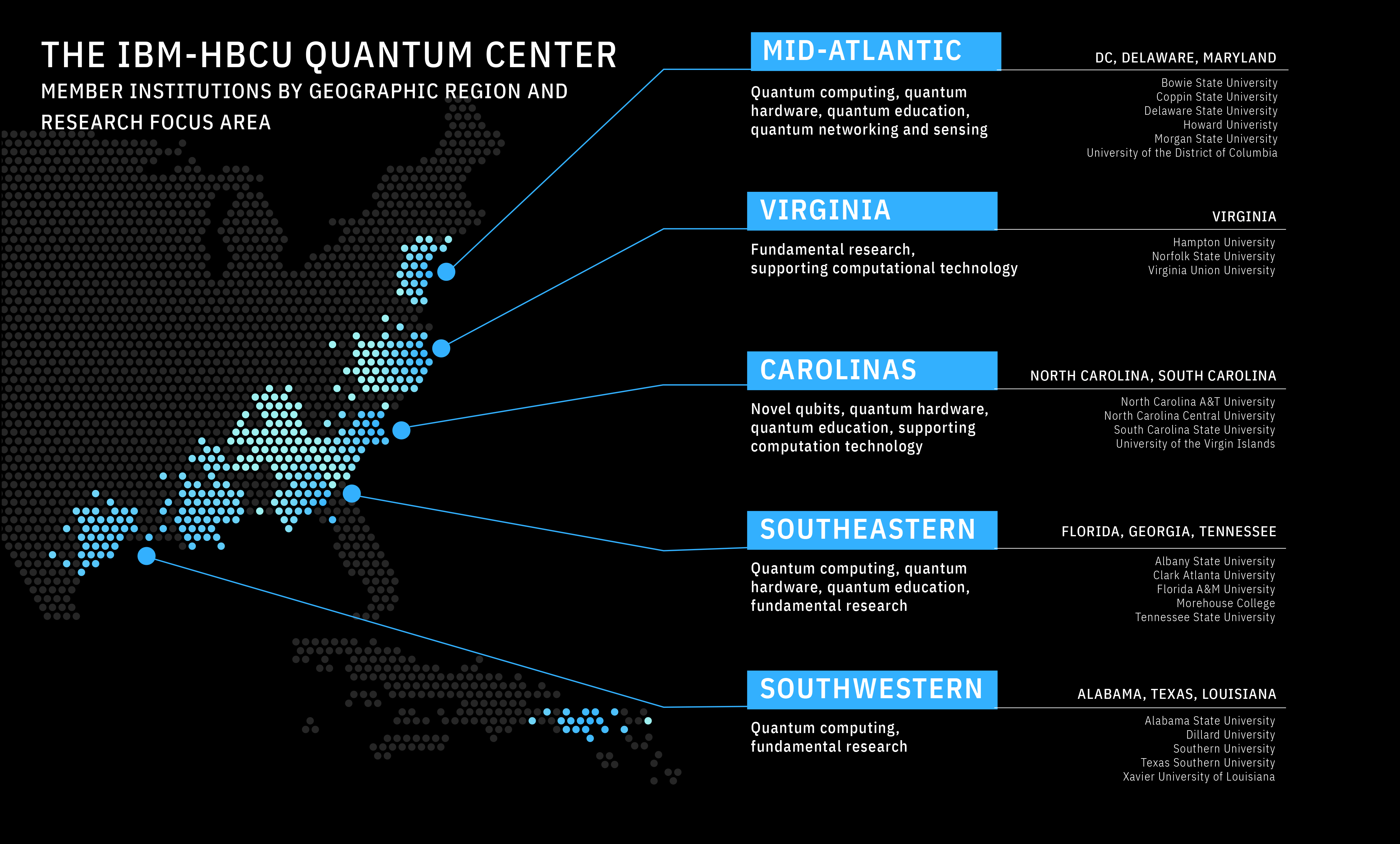 IBM-HBCU Quantum Center Member Institutions
Alabama State University
Albany State University
Bowie State University
Clark Atlanta University
Coppin State University
Delaware State University
Dillard University
Florida A&M University
Hampton University
Howard University
Morehouse College
Morgan State University
Norfolk State University
North Carolina A&T University
North Carolina Central University
South Carolina State University
Southern University
Tennessee State University
Texas Southern University
University of the District of Columbia
University of the Virgin Islands
Virginia Union University
Frequently Asked Questions
This is a cool initiative, and I'm really excited to learn more, what should I do?
How do I know if this community is for me?
The HBCU Quantum Coalition's mission is to put Black talent at the center of the future of quantum. We're working across industry and academia to build a community that can connect and train Black talent. If you support this mission, this community is for you. We welcome anyone to the community, from the quantum curious to deep experts in the field.
What majors or backgrounds are best for this community?
Early initiatives in the HBCU Quantum Coalition will focus on preparing all STEM majors for entry into the quantum field. But this field is still forming and is already interdisciplinary—the IBM Quantum team is made up of people of various backgrounds, from business to biology to chemistry to computer science to physics.
My HBCU isn't listed, how can I get involved?
We plan to engage as many HBCUs as possible. While some of our initiatives will be targeted to the partner institutions, we will also have events open to all of the HBCU community. If you are student and don't see your university listed but want to join, fill out our this form to tell us more about yourself.
How were the initial HBCUs selected?
A few HBCUs were prioritized based on research and education focus, including current programs in physics, engineering, mathematics, computer science, and other STEM fields. These HBCUs have both faculty and students that are committed to the goals of this partnership. We welcome all to join the community and to start discussions on your campus if you or your HBCU would like to be more engaged.
I can't wait to start learning more about quantum technologies, where should I start?
We're partnering with IBM and the Qiskit community for all of our research and education initiatives. You can get started at IBM Quantum or Qiskit, or even start teaching yourself how to program a quantum computer with this hands-on course.