ROTC at Howard University
Dedication, Drive, and Discipline
It takes a unique individual to succeed in ROTC. The goal of these programs is to help students become officers and leaders in the U.S. Air Force, U.S. Space Force and U.S. Army, so you will need to meet — and maintain — program standards.
Classes and Leadership Training
ROTC provides you with the tools to become an Air Force or Army Officer without interfering with your other classes. 
ROTC also provides discipline and money for tuition while enhancing your college experience. 
Talk to our Military Science and/or Aerospace Studies departments about other ways to join our ROTC programs and learn more about the incentives that are available, including opportunities to compete for two-, three-, or four-year scholarships!
Did You Know that ROTC Cadets: 
- are allowed to major in nearly all academic areas.
- have the same lifestyles and academic schedules as any other college students.
- can join fraternities and sororities; can participate in varsity team and individual sports; can also take part in community service projects and much more!
Selected Cadets may choose to serve part-time in the Reserve or National Guard while pursuing a civilian career.
And, if you complete ROTC, you have a guaranteed job—not all graduates can say that!
Helpful Contacts
Captain Tarah Cotton
Recruiting Officer
Detachment 130
U.S. Air Force ROTC
Alain Locke Hall
2441 6th Street, NW Room B-19
Washington, DC 20059
Phone: (202)806-6788
Email: AFROTC@howard.edu
Website: https://airforce.howard.edu/ 
Sharon Finney
Recruiting Officer
Howard University Army ROTC
Mordecai Johnson Administrative Building
2400 6th Street, NW Suite 115
Washington, DC 20059
Phone: (202) 276-5142
Email: sharon.finney@howard.edu
Website: https://army.howard.edu/
Why Join a Howard University ROTC Program?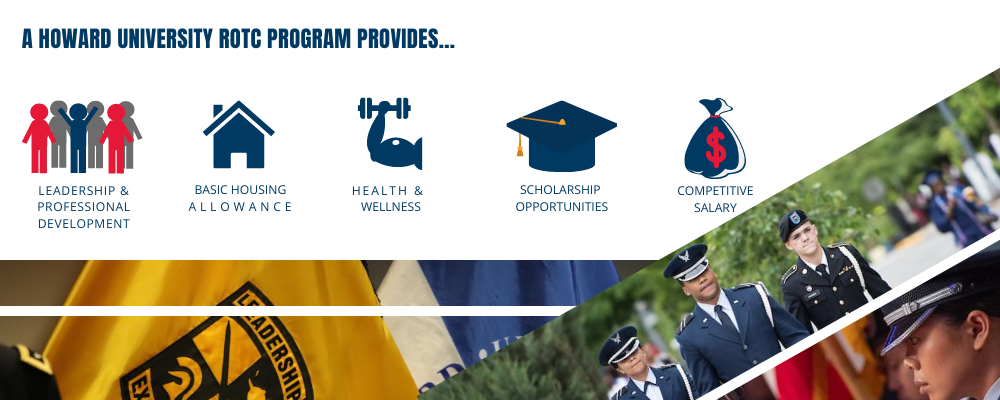 Howard University graduate and the first black, female officer.
To be around people who look like me and instill a self-confidence in who I am, and walk into the world knowing where I come from and where my people come from, and where we can go, is invaluable."